Choosing a Glitsa Conversion Varnish System
Beautiful hardwood flooring, on its own, is a porous material that absorbs moisture, oil, and dirt. A finish is applied to protect the wood from damage and enhance its appearance. The type of finish for your hardwood floor is something you will need to decide on. Different finishes offer different levels of protection and highlight the hardwood's beauty in different ways. A conversion varnish finish, such as the Glitsa Conversion Varnish Systems, appeals to many homeowners.
Due to its unmatched protection and ability to bring out the natural beauty of wood, conversion varnish rapidly rose to fame across Europe since its development in Scandinavia in the early 1950s. Premier products like Glitsa Conversion Varnish Systems have continued to be engineered to create the best finished hardwood floors.
Conversion Varnish finish, also sometimes called acid-cure or Swedish finish, forms a chemical bond to the wood when curing, adding strength to a highly durable top layer. This allows for better protection against scratches, scuffs, and stains compared to other finishes.
Additionally, Glitsa Conversion Varnish System creates low-maintenance but extremely durable protection for your hardwood floor. Its strong bond with the wood itself creates an exceptionally strong floor. The use of Glitsa conversion varnish finish on wood flooring, helps prevent scuffing and minimizes the visibility of scratches. It keeps hardwood floors looking fresher longer, thus delaying the need for refinishing.
Aside from the protection against mechanical damage, the Glitsa conversion varnish finish brings out the natural color of the wood that deepens over time and defines the wood grain pattern. Hardwood floors appear deeper, richer, and more resistant to developing yellow tones or lightening in color over time. This finish is perfect for hardwood flooring as a natural or over stain.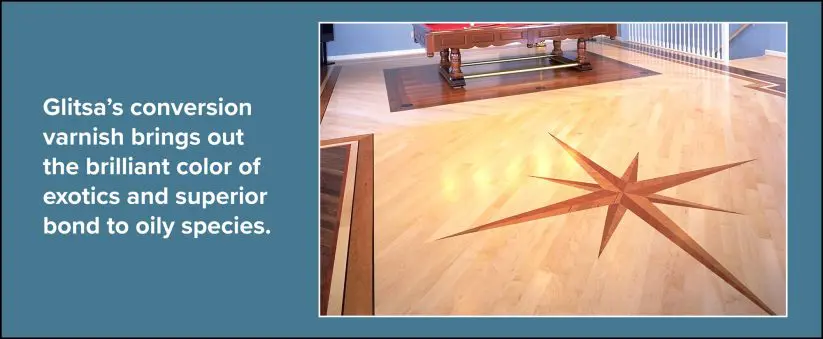 Gold Seal System
Glitsa's Gold Seal Swedish Finish is a crystal-clear coating composed of small molecules which provides excellent penetration into the woods cells, creating superior clarity and grain definition, especially in exotic woods. Gold Seal's flexibility allows scuffs to be rubbed out and hides scratches, making it look better, longer. The Gold Seal System can be applied as a two coat or three coat system. For a higher grain definition look, one seal coat of Bacca or Glitsa Sealer, and one top coat of Gold Seal or Lite Scent can be applied. For a higher build system, two seal coats of Bacca or Glitsa Sealer and one top coat of Gold Seal or Lite Scent can be applied. Gold Seal and Lite Scent topcoats are available in gloss, semi-gloss, satin and matte sheens.
Platinum Plus System
Glitsa Platinum™ Plus is the brand's next-generation conversion finish. It utilizes a cutting-edge technology that eliminates formaldehyde from the coating without sacrificing the look and durability of Glitsa's traditional conversion varnishes. Glitsa Platinum™ Plus, like other Glitsa Conversion Varnishes, produces a strong chemical bond, penetrating the wood's molecules, resulting in a finish that is exceptionally durable and adheres well. This coating brings out the inherent beauty of your hardwood floor without while minimizing lingering odors. Platinum Plus is available in High Semi-Gloss, Satin and Matte sheens.
MultiKote System
Glitsa MultiKote is a versatile conversion varnish system that offers time savings and higher build options for your wood floors. Like all Glitsa conversion varnishes, MultiKote brings out the rich color of the natural wood in both domestic and exotic species while providing the maximum durability. MultiKote is available in high semi-gloss, satin and matte sheens.
Glitsa Conversion Varnish Systems delivers excellent protection for your hardwood flooring. Its unique chemical makeup makes it the most durable hardwood floor finish for over 50 years. Not only does Glitsa Conversion Varnish protect your investment, but it also highlights the natural beauty of your hardwood flooring without yellowing or fading over time. These characteristics make it the top choice of contractors and homeowners who would love to preserve the beauty of their hardwood floors.
Follow this link to learn more about picking a sheen for your hardwood flooring project.