GlitsaMax 2 Commercial Waterborne Finish
GlitsaMax 2
Maximum Body. Maximum Build. Maximum Performance.
Glitsa continues its tradition of meeting the needs of the discriminating contractor with GlitsaMax 2, the urethane waterborne finish that incorporates a "bulletproof" polycarbonate resin. That's the very resin used to create bulletproof glass and give high-impact strength and durability to motorcycle helmets. The result? One tough coating with a beautiful, clear finish!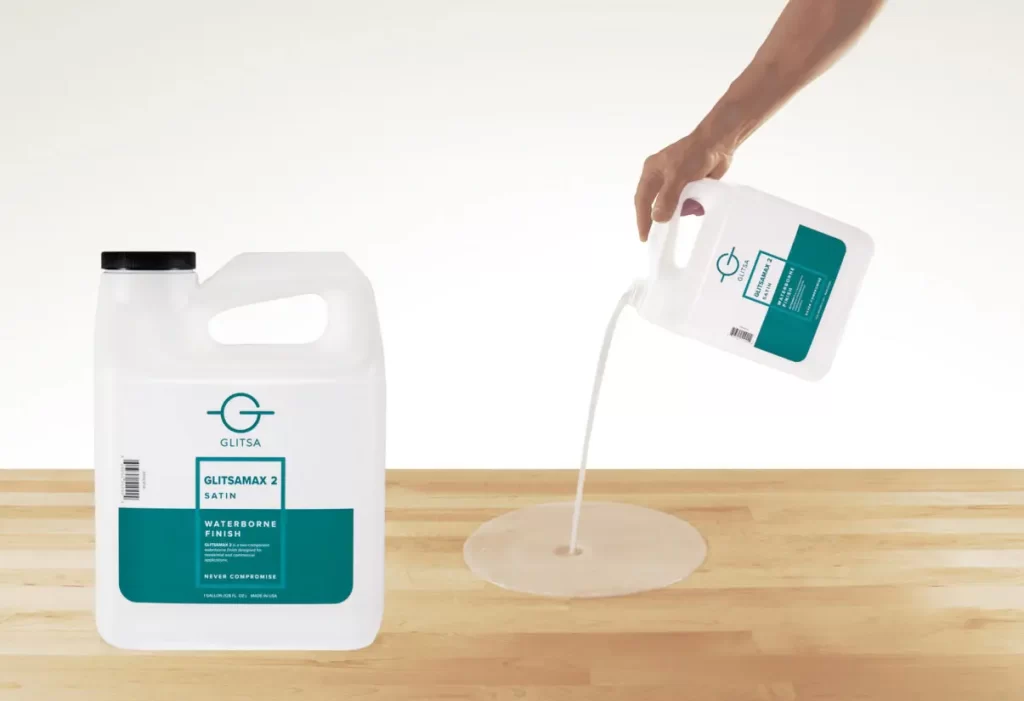 Glitsa's development team has applied the most advanced technology to produce a two-component waterborne finish with exceptional flow and leveling characteristics. A thicker spread rate means GlitsaMax 2 has the full-bodied feel and application of a solvent-borne finish while retaining all the advantages of a waterborne. GlitsaMax 2's heavier coverage rate also means a longer open time, resulting in a more manageable working puddle that minimizes your chance of lap marks, turn marks or bubbles. The thicker finish viscosity gives maximum body and build and makes working back to a wet edge a snap.
Better build means GlitsaMax 2 is easier to see during application–no more guessing–making it the ideal finish in low light conditions or on white floors. And GlitsaMax 2 dries clear, allowing the natural color and beauty of the wood to shine through. Not only is GlitsaMax 2 user-friendly, but it's applicator-friendly as well. Roll, T-bar or pad; GlitsaMax 2 works great with all application techniques.
GlitsaMax 2 is available in three sheens: Semi-Gloss, Satin and Ultra Matte. Each sheen delivers a consistent, uniform finish. GlitsaMax 2 can be used over TruSeal, or over two coats of Glitsa Sealer or Glitsa Poly Quick Dry Sealer.