How To Maintain The Beauty Of Your Hardwood Floors
A Simple Guide to Cleaning Your Glitsa Finished Wood Floors
With all the information on the internet and all of the DYI blogs it's not always easy to decipher what advice you should and shouldn't follow. When it comes to cleaning and maintaining your hardwood floors there are certain things you should do to ensure your home flooring investment lasts years into the future.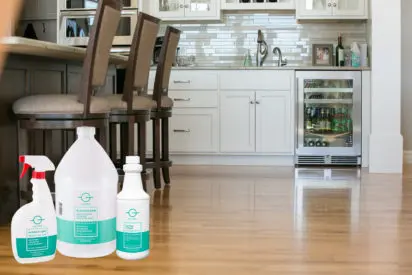 Preventative Maintenance
By taking preventative steps upfront, your finished floor will age gracefully and stay protected.
Use breathable throw rugs, which are also cleaned regularly, inside doorways. The rugs will help prevent dirt and other debris from making it onto your wood floor in the first place. Keeping dirt and grit off your hardwood floors is the best preventative maintenance step you can take. It is important that you also regularly clean the rugs and don't place them back on your floor until they have dried completely.
Using floor protectors will help prevent scrapes from furniture legs and help prevent dirt and debris from being rubbed into your hardwood floors like sandpaper. Install good quality floor protectors to the bottom of furniture and check them regularly to be sure they are in the correct position.
Don't slide heavy furniture across your wood floor. If you need to move it, the furniture should be lifted to avoid scraping your floors. If lifting isn't an option, use floor protectors to help the furniture glide more easily and be sure the the floor is free of debris and grit.
Avoid wearing cleats and heels in disrepair on your hardwood floors. A 125 lb. woman wearing heels that are in good shape exerts 2,000 PSI, but if you take the same woman wearing heels with an exposed heel nail the PSI she exerts quadruples to 8,000. This means that the wood floor is in danger of being dented wherever the heal nail stands. It is also important to keep your pets nails trimmed. Placing so much pressure on such a small, sharp surface area can cause scratches.
Along with the few easy preventative maintenance steps above, it is important that you come up with a regular cleaning schedule and routine and stick to it.
Cleaning Schedule
Remove the dust and debris that have made it onto your floors. Make sure you are using the right equipment, you don't want to use something that will be too rough and can damage your floors. You can use a vacuum with hard surface settings and the beater brush turned off. We recommend using the Glitsa Maintenance Mop with an untreated microfiber dust pad. The Glitsa Maintenance Mop's angled swiveling base makes it easy to get to hard to reach areas and the aluminum-telescoping pole won't come apart while you are using it like many other mops on the market. The mop pads, both wet and dry, are easy to clean and can be thrown in the wash with regular laundry detergent. It is important that you don't use fabric softener on the pads as it will take away the static cling needed to pick up dust. Glitsa's maintenance mop with included dust pad easily glides over your hard surface flooring and picks up dust without any additional dust treatment products.
Use the correct cleaning products. We don't recommend vinegar and water or baking soda solutions to clean your floors, over time these solutions can break down the luster and sheen of your finish. The other big mistake many homeowners make, according to the National Wood Floor Association (NWFA), is assuming that all flooring cleaners can be used on wood floors. This is not true and using the wrong products can cause problems in the future. The wrong products can impair both the finish and the wood and create adhesion issues when it is time to have your floor recoated. A simple recoat could turn into a costly resand and coat project.
Clean your floors as needed with a dampened Glitsa maintenance mop with the included microfiber pad for damp mopping. The mop pad should never be soaking wet. If the mop is too wet the moisture can seep into your hardwood floors and cause problems in the future. We recommend using the Glitsa Maintenance Mop with the cleaning pad and Glitsa Clean™. Simply spray the pad with the Glitsa Clean solution or spray the cleaner directly on the wood floor and mop. Glitsa Clean is a pH neutral, waterbased wood floor cleaner that is specifically formulated to clean your Glitsa Finished floor without leaving a dulling residue. Glitsa Clean comes in both a concentrate solution and a Ready-to-Use spray. To use the concentrate, simply mix 1/4 cup concentrate for every 1 quart of water and the Ready-to-Use spray is premixed and ready to go.
Finally, how often should you clean your Glitsa finished hardwood wood floor? Cleaning your floor depends on the traffic through your house. The higher traffic areas need to be cleaned more often than the low traffic areas. Dust mopping should happen regularly to keep dirt and grit off the floor. Cleaning your floor with a damp mop pad should happen regularly, but at longer intervals. At the end of the day the most important thing you should do is to find a cleaning schedule that works for you and stick with it.