Choosing the Right Finish for Your Hardwood Floors

Choosing the right wood floor finish for your job is an important decision that will lock in the beauty of your floor for years to come.
Are you having new hardwood flooring installed or existing wood floors refinished? Either way, there is a lot to consider. Are you looking for the most durable hardwood floor finish? Do you want a wood floor finish that is low odor or LEED-certified? What sheen do you want on your floor?
You are in a perfect position to create a unique wood floor for your space, and Glitsa wood floor finishes will add to your hardwood floors' beauty and longevity.
Glitsa has three high-end wood floor finish lines, Conversion Varnish, Waterborne, and Oil-Modified Polyurethane. Each wood floor finish line is unique and offers its own features and benefits.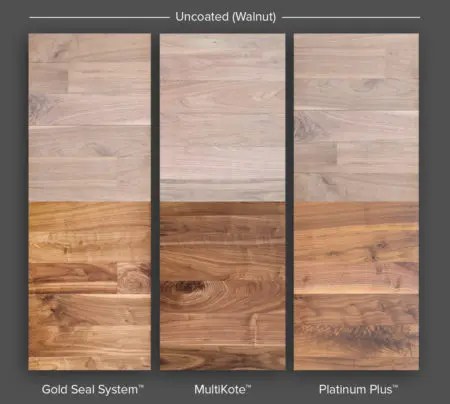 Conversion Varnish Wood Floor Finishes
Glitsa's conversion varnishes, also commonly referred to as Swedish finishes or acid-cure finishes, are the complete package:
It brings out the natural color of your wood flooring
Unmatched depth and clarity all you to see your hardwood floor clearly
Natural grain definition to see your wood floor clearly
Sheens: Gloss, Semi-Gloss, High Semi-Gloss, Satin, and Matte
Conversion Varnish has a unique chemical makeup that brings out the rich color and grain pattern in every species, especially exotic woods. Glitsa's Gold Seal System is crystal clear, and its smaller molecule dives deep down into the wood cells, allowing superior clarity, grain definition, and natural beauty. Durability that stands above the rest is achieved thanks to the coating's flexibility, which allows for scuffs to be rubbed out and minor scratches to be less visible than in other types of finishes. As a result, Glitsa Swedish-finished floors look better, longer.
Glitsa's next-generation Swedish finish, Platinum™ Plus, incorporates cutting-edge technology that eliminates formaldehyde from the coating while maintaining the great features that make these finishes so special. The result? The same beautiful look and durability but without lingering odors. Glitsa Swedish Finishes include Bacca® Sealer, Glitsa Sealer™, Gold Seal™, Lite Scent™, MultiKote™ Swedish Finish Glitsa's newest Swedish finish, Platinum™ Plus. Your professional wood flooring contractor will choose the system that best suits your floor and job site.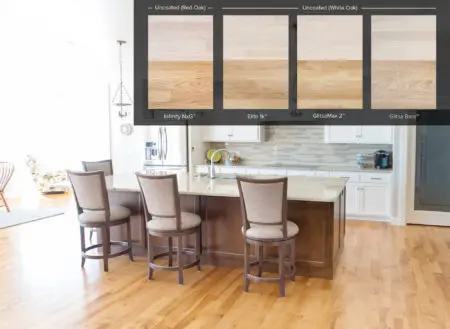 Waterborne Wood Floor Finishes
Glitsa's waterborne finishes are formulated with durability and beauty in mind. We test our waterborne finishes for durability, adhesion, chemical resistance, and excellent application properties. Maintaining Glitsa's high standards for all our wood floor finish lines is a must.
You can achieve a custom look for your wood floor with the Glitsa waterborne finish system you and your contractor select.
Glitsa Infinity™ NxG presents a rich, warm color on your wood floor.
Glitsa Elite™ 1k presents a clear, clean finish to your wood floors. It is ideal for light-colored stained floors.
GlitsaMax™ 2 is a 2-component waterborne finish that offers superior durability and presents a clear, clean finish.
Glitsa Bare™ is a 2-component waterborne finish with an ultra-low sheen that gives the floor a raw-wood look.
Glitsa waterborne finishes Sheens: Gloss, Semi-Gloss, Satin, Matte, Ultra Matte, and Bare.
Environmental Certifications
Our low-odor waterborne finishes meet the most stringent VOC (volatile organic compound) emission regulations. The Glitsa waterborne line also offers finishes that are certified or comply with:
USGBC LEED Version 4, BD4C, ID&C
The Well Building Standard
ANSI/GBI 01, Green Building Assessment Protocol
For an exceptional waterborne finish, you can trust Glitsa. Naturally.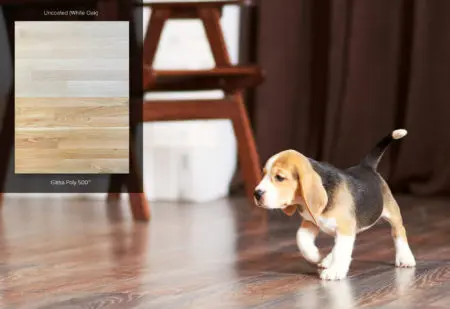 Oil Polyurethane Wood Floor Finish
Glitsa's oil-modified polyurethane, Glitsa Poly 500™, is formulated to provide excellent durability and stain resistance for your wood floors. All our products are developed to be the best in their categories.
Glitsa Poly 500 delivers a lighter, warm tone compared to traditional, highly yellowing oil-based polyurethanes and has a faster cure time than many other oil-based polyurethanes. This means that the Glitsa Poly 500 develops into a tougher, stronger coating more quickly than others, so your floor is better protected during the critical "tip-toe" time – that time when your floor's finish is most vulnerable. This feature adds to the overall beauty of the floor for the course of its lifetime.
Glitsa Poly 500 is available in gloss, semi-gloss, satin, and matte sheens and is an excellent choice for any home.
Whichever Glitsa wood floor finish you choose, you can rest assured that you have chosen the highest quality finish for your project. Once your floors are finished, you must start on the right foot by keeping it well maintained. Check out our cleaning and maintenance tips here.
Glitsa is a proud member of the National Wood Flooring Association (NWFA). For more information on hardwood floor finish comparisons, you can visit the NWFA by clicking on this link.