Cleaning and Care for Wood Floors
Learn how to care for hardwood floors by following these simple tips.
Hardwood floors are known for their natural beauty and with proper care they can last for decades. Keep yours looking great by following these tips on how to clean your wood floors.
Use the Right Cleaning Tools
For dust and debris you can use a vacuum with hard surface settings and the beater brush turned off but we prefer the Glitsa Maintenance Mop with an untreated microfiber dust pad. The Maintenance Mop's untreated microfiber dust pad (green pad) easily glides over hard surface floors and picks up dust without any additional dust treatment products. As well it's angled swiveling base makes it easy to get to hard to reach areas and the aluminum-telescoping pole stays locked-in while you are using it.
The Glitsa Floor Care Kit includes:
1 Glitsa Maintenance Mop with telescoping, aluminum pole and easy-swivel head
1 Microfiber dust mopping pad (green)
1 Microfiber damp mopping pad (blue)
1 – 32 fl. oz. Ready-to-Use Glitsa Clean™ wood floor cleaner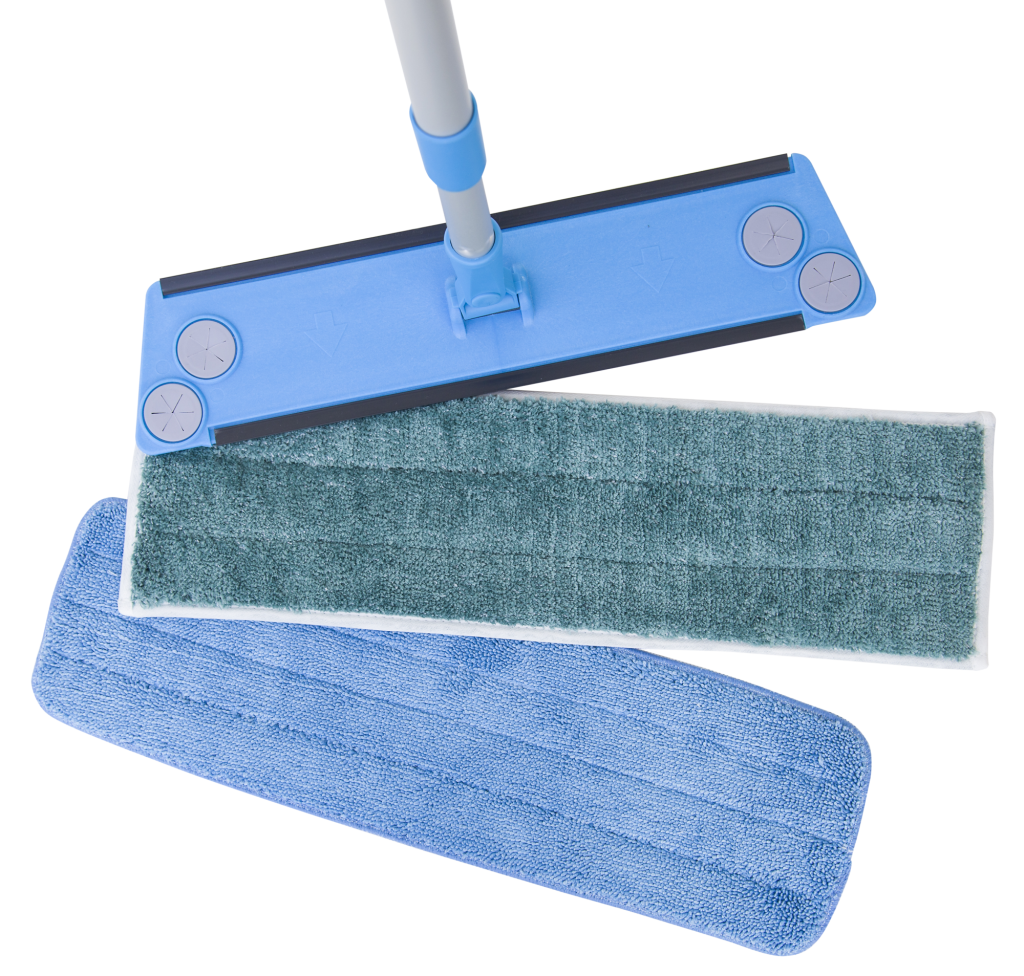 For spills we recommend wiping it up as soon as possible with a clean rag and then using the Glitsa Maintenance Mop with a dampened (not soaking wet!) Cleaning Pad (blue)to finish cleaning any remaining residue from the floor. If the mop is too wet the moisture can seep into your hardwood floors and cause problems in the future. The mop pads, both wet and dry, are easy to clean and can be thrown in the laundry. Just remember not to use fabric softener on the pads as it will take away the static cling needed to pick up dust. The dust mop pad can also be vacuumed and resued before laundering is necessary.
We don't recommend using steam cleaners for Glitsa finished floors or for really any hardwood floor. The moisture generated from the steam may be forced through imperfections, scratches, and gaps in the floor, and eventually, it can cause the wood cells to swell in place and create cupping or crowning of the wood floor.
Use the Right Cleaning Products
According to the National Wood Floor Association (NWFA), the biggest mistake homeowners make when cleaning their floors is assuming that all flooring cleaners can be used on wood floors. We don't recommend DIY cleaners like vinegar and water, baking soda solutions or floor cleaners made with wax or oil.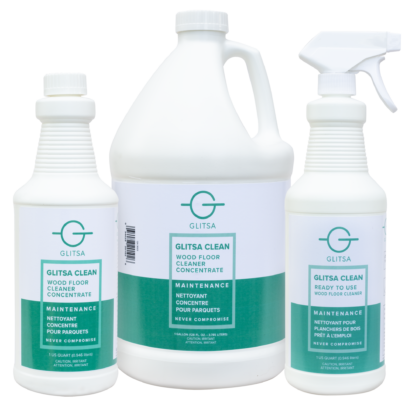 The wrong products can compromise your floor's finish over time. Vinegar and water have been used for cleaning wood floors for decades, but it does have an acidic element to it that can break down the luster and sheen of the finish over time. Other products may leave a residue that collects and traps dirt and contaminants that can leave a dull or streaky appearance, or create adhesion issues when it is time to have your floor recoated. This means simple recoat jobs become more expensive sand and finish projects. Instead, we recommend using Glitsa Clean wood floor cleaner.
Available in both a concentrate solution and a Ready-to-Use spray, Glitsa Clean is a pH neutral, water-based wood floor cleaner that is specifically formulated to clean your Glitsa Finished wood floor without leaving a dulling residue. To use the concentrate, simply mix 1/4 cup concentrate for every 1 quart of water while the Ready-to-Use spray is premixed and can be sprayed directly on the floor and/or the Maintenance Mop.
For stubborn spots, Glitsa Clean may be used at full strength (undiluted concentrate), then wiped clean with a water-dampened cloth. Glitsa Clean is made for wood floors but it can also be used for tile or luxury vinyl floors and if stored in an area protected from extreme temperatures, it can last for 2 to 3 years.
5 Things You Can Do to Protect Your Floor
Use the right cleaning products. The wrong products can ruin both the finish appearance and the wood. We recommend using Glitsa Clean wood floor cleaner.
Clean up sticky, wet and forgotten spills right away. Hardwood can stand up to just about anything but don't let it linger. As soon as something spills, use the Maintenance Mop to clean it up.
Dust mop regularly to keep dirt and grit off your wood floors. Dirt, dust, and other abrasive particles can gather and scratch the floor without you even noticing.
Use mats/rugs at entryways as a buffer between the outdoors and your wood floors.
Use felt floor protectors to prevent furniture legs from making any marks on your floor.
How often should you clean your wood floor?
Cleaning your floor depends on the traffic through your house. You should dust mop regularly to keep dirt, dust, pet hair, and other grit off the floor. In higher traffic areas this probably needs to happen at least once a week.
For built-up grime and spills, you can clean your floor by spraying Glitsa Clean directly on the wet-mop pad (blue pad) or the floor and mop until clean. This will help keep your floor looking great and also ensure you don't create premature wear by over-cleaning.
Cleaning a hardwood floor is not difficult but it is important that it be done right to help your floor stand up to the test of time. Glitsa offers professional contractors and homeowners the very finest wood floor finishing and care products available. Visit our website for more information.